Welcome to Anand Prakash Yoga Ashram and Retreat Centre in Rishikesh, India
Come and practice with us in Rishikesh, the world capital of Yoga, and recharge in this spiritual community founded by Yogrishi Vishvketu.
Anand Prakash Yoga Ashram and Retreat Centre* is located in Tapovan, Rishikesh the training and practice hub for Akhanda Yoga Institute and your home for the authentic study and practice of Yoga in India. On the banks of the Ganga River, surrounded by the foothills of the Himalaya, Rishikesh is an ancient spiritual centre in North India where seekers and Yogis have gathered for centuries.
"The journey begins with saying YES to yourself."
"The journey begins with saying YES to yourself."
What is a Yoga Ashram?
An ashram is a soulful sanctuary, a place dedicated to self-care, meditation, and spiritual practice.
The perfect place for self-healing and seekers to find their inner peace. Guests can stay for a weekend wellness break, a two-week Yoga retreat, Yoga Teacher Training, or for an extended stay and a program tailored to you.
No matter the length of time you stay, you will benefit from the authentic Akhanda Yoga teachings:
| Daily Yoga Practices |
| Instruction in asana, meditation and pranayama |
| A healthy Yogic diet |
| A safe space |
| A community that supports self-healing and recovery from chronic stress |
Come and align all layers of your being.
Physical, Emotional, and Spiritual.
How much does it cost to stay at the Ashram and Retreat Centre?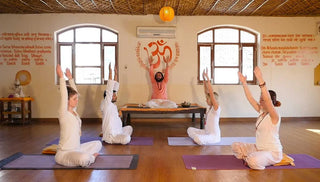 Drop-in Yoga classes are open to the public!
Yoga Class Fees: 
Morning Yoga: 500 INR
Evening Yoga: 300 INR
What is the daily schedule at the ashram?
5:20 - 5:50am – Guided Meditation
6:00 - 7:30am – Yoga Class: asana, pranayama, mantra and meditation
7:50am – Yogic Agni Hotra (fire puja)
8:30 - 9:00am – Breakfast
12:30pm – Lunch
4:00-5:30pm – Yoga Class: asana, pranayama, mantra and meditation (not on Sunday)
6:00pm – Dinner (6:30pm in Summer)
7:00 - 8:00pm – Kirtan / Chanting (Tuesday & Thursday)
The silent time is between 9 pm and 9 am daily.
What can I expect at Anand Prakash Yoga Ashram & Retreat Centre?
A Yoga Retreat for Every One!
Anand Prakash Yoga Ashram & Retreat Centre and our Shree Jungle Yoga Ashram and Retreats are available for healthy breaks, Yoga retreats, and work-cations. You can stay for a weekend, a month, or longer. It's up to you.
We can also customize a Yoga retreat that includes Ayurveda treatments, from recommended practitioners in Rishikesh.
Consider joining us daily, if you are staying outside the ashram. You can purchase day passes, class passes, and meal passes for both short term and long term use.
Our affordable retreats include:
- Weekend Wellness Break -
- Six-Day Detox -
- Two-week Retreat, Realign, Recharge program -
You will benefit from a peaceful community and a safe space dedicated to your wellbeing and self-healing.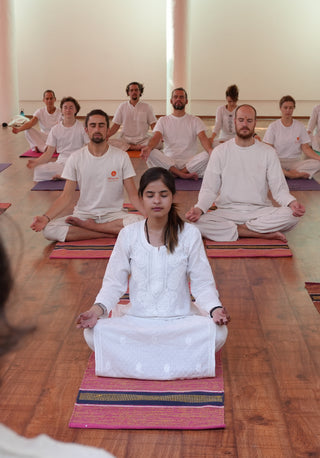 "Yoga is not a workout, it is a journey inwards."
- Yogrishi Vishvketu
Learn more about Anand Prakash
Have a look at our FAQ's for more helpful information about Akhanda Yoga and visiting our Ashrams.
Shree Jungle Ashram is coming soon!
Construction work is currently underway to build our new Shree Jungle Ashram!
As a result, the Ashram is not open for visits, and unfortunately, there are no accommodation options available at this time. We apologize for any inconvenience this may cause and want to assure you that we are working hard to complete the Ashram as soon as possible. In a few months, the construction will be finished, and we look forward to welcoming you back to the Jungle Ashram.
Although you cannot visit us in person at the moment, stay connected with us through our website to receive regular updates on the progress of the construction and the upcoming reopening of the Shree Jungle Ashram.
We appreciate your understanding and patience. We are excited to have you back at the Shree Jungle Ashram soon, where you can once again enjoy a unique and enriching experience. If you have any further questions, please feel free to reach out to us.
Book Your Ashram and Retreat Stay or Get a Day Pass!
*Registered Entities: Anand Prakash Yoga Retreat in coordination with Anand Prakash Yoga Ashram Trust and Akhanda Yoga Institute Inc.