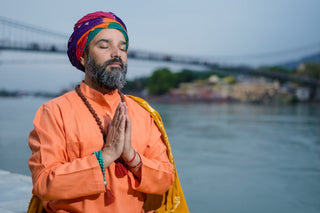 REVIVING AUTHENTIC YOGA FROM THE SOURCE
"Wellbeing is your Birthright." - Yogrishi Vishvketu
What is the Akhanda Yoga Institute?
The Akhanda Yoga Institute is a globally recognized organization dedicated to authentic Yoga and Wellbeing education. We are highly regarded for offering one of the best Yoga Teacher Training programs in India, USA, Canada, Europe and worldwide. Our programs are deeply rooted in the origins of Yoga, ensuring an authentic and enriching experience.
Led by Himalayan Master Yogrishi Vishvketu (PhD), national and University gold medalist in Yoga and the author of 'Yogasana: The Encyclopedia of Yoga Poses'.
Akhanda Yoga Institute is a unique east-meets-west global community and teaching faculty, dedicated to sharing authentic Yoga wellbeing.
The first registered Yoga Alliance School of Rishikesh, and the training source of many known and respected Yoga Teachers globally. We are proud to have trained over 5000+ teachers and many more dedicated Yoga practitioners over 25 years, with the nurturing support of Himalayan Master, Yogrishi Vishvketu.
Established for over 25 years
Picture: Yogrishi Teaching At The Canadian Parliament
Established for over 25 years
Picture: Yogrishi Teaching At The Canadian Parliament
Yogrishi Vishvketu says…
"Your true Self is Joyful, Playful, Fearless, Blissful, Expandable, and Kind.
Akhanda Yoga is a holistic practice of Yoga - the Yoga of "Oneness".
This practice is reawakening You. Reprogramming all layers of You, to experience who you truly are!"
Are you looking to experience authentic Yoga in the foothills of the Himalayas?
We are so proud to be the first Yoga Teacher Training Institute to offer Dual Accreditation from both; Yoga Alliance and Gurukal Kangri University in Haridwar!
Respecting Cultural Origins
Akhanda Yoga Institute is proud to acknowledge and respect the cultural origins of Yoga in India, and we are now the first to provide dual accreditation from both Yoga Alliance and specialized Indian Yoga Institutes such as Gurukal Kangri University of Haridwar.
We are dedicated to reviving authentic practices of Yoga from both Vedic traditions and the Adi Nath Shiva lineage to deeply nourish the soul. We offer the following courses:
Foundational trainings in 200-hour | Advanced specializations across 300-hour | Classical Kundalini Yoga | Masters Pranayama | Prenatal Yoga | Yoga for Mature Bodies | Nada Yoga | Bhakti Yoga | Restorative Raja Yoga and Meditation | Inner Reprogramming | Five Koshas | Sadhana Programs and more!
Whether you're just starting out on your Yoga journey or looking to deepen and advance your sadhana practice, we welcome you to join us in community.
OUR MISSION
"Our mission is to help people experience Oneness and wellbeing by sharing carefully preserved ancient Yoga wisdom and techniques.
We want as many people as possible to experience their true nature and highest potential, and know that wellbeing is their birthright."
Connect to the Global Wellbeing Community!
Join a nurturing, safe community of like-minded Yoga and wellbeing practitioners, where you can cultivate your true Self.
We offer foundational and advanced specializations through Yoga trainings, Yoga retreats, Yoga wellbeing and sadhana programs.
Experience the energy of masterfully sequenced Yoga, Pranayama and Meditation classes, and daily yogic practices in community such as Agni Hotra, Mantra, Kirtan, and Satsang, and our well known delicious Ayurvedic, Prana-rich, yogic meals.
Explore Akhanda Yoga Institute
"Self-healing and living in Wellbeing is your Birthright and the biggest gift you can give back to this world!"
Experience authentic, holistic Yoga today!
We endeavor to provide a comprehensive and authentic Yoga experience, deeply rooted in the original, holistic practices of Yoga and merged artfully with fun, balanced wisdom for modern day lifestyles.
Experience authentic offerings shared by esteemed global experts and committed practitioners of Yoga, dedicated to the path of Self-mastery.
"You do not need a flexible body. If you can breathe, you can do and be, in Yoga."
QUESTIONS?
Explore our FAQS, or contact us to speak with our team of dedicated Yogis and Yoginis!