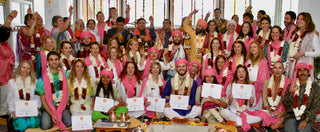 300HR YOGA TEACHER TRAINING
300-Hour Akhanda Yoga Teacher Training
The 300-Hour Akhanda Yoga Teacher Training is an advanced modular course that allows students to customize and specialize their advanced studies. 
Students can choose their focus area from a variety of offerings, paced at their preferred timing, and grow their designations thoughtfully. 
The 300-Hour Akhanda Yoga Teacher Training can be taken at the ashram in Rishikesh, India.
This training enhances Yoga teaching with a deepened understanding of authentic Yogic wisdom, tools, and techniques. Students will immerse in the teachings of the Bhagavad Gita, Upanishads, Ayurveda, and Hatha Yoga traditions. 
They will gain additional tools for sequencing, assisting, and supporting students in a complete Yoga practice. This course is a transformational soul journey, and students will connect with a community of passionate Yoga teachers.
Want to Expand Your Existing Knowledge and Teaching Skills?
Register for our upcoming 300hr Yoga Teacher Training in Rishikesh.