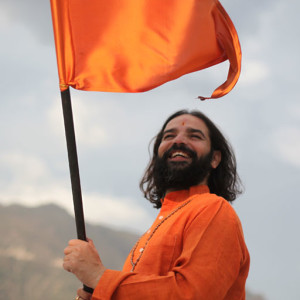 Himalayan Yoga Master and Co-founder of Akhanda Yoga, Yogrishi Vishvketu (Vishva-ji) is known for his infectious laughter and stories. His holistic approach brings forward ancient wisdom for a modern age, incorporating asana, pranayama, mantra, meditation and yogic wisdom in every class. Vishva-ji's deepest aim is to inspire people to connect to their true nature, which is joyful, fearless, expansive and playful.
A Yogi at heart, Vishva-ji has studied and practiced Yoga in the Himalayas since the age of 8, and holds a PhD in Yoga Philosophy. He has been teaching for over 25 years at workshops and conferences internationally and has trained thousands of teachers through his Yoga Alliance registered 200- and 300-hour Yoga Teacher Training (YTT) programs in Rishikesh, India.
He continues his father's legacy of charitable works in local communities. In 2007, Vishva-ji co-founded Anand Prakash Yoga Ashram Trust in Rishikesh. In 2013, he founded Sansar Gyaan Pathshala, a free school for over two hundred and fifty underserved children in rural Uttar Pradesh, India, which is supported by the Canadian charity Helping Hands for India.
He is the author of Yogasana: The Encyclopedia of Yoga Poses, (2015) and collaborated on the forthcoming Business Casual Yogi (2019).
Events with Yogrishi Vishvketu