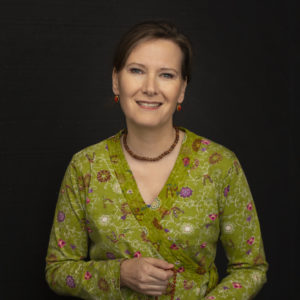 Chétana co-founded the Akhanda Yoga approach, the Akhanda Yoga Teacher Training (YTT) program design, and has facilitated philosophy, methodology and transformational experiences sessions as a lead trainer for about 25 Akhanda YTT programs in both India and in Canada. She also offers workshops in Yoga philosophy, teaching methodology and everyday wisdom. Two of her favourite words are awe and wonder, and she absolutely loves being in circle with people, connecting, breathing and discussing how Yoga can serve us in our post-modern lives.
A writer, she has also published a number of articles and blog posts on Yoga philosophy, teaching and holistic living, and has fun working on the Akhanda Yoga weekly newsletter and blog. She has an MFA in Creative Writing and is also a novelist, creative works editor, and published poet.
Chétana has been blessed to have the opportunity to explore the Yoga of motherhood and the moment-to-moment presence being with children can inspire. And so, as a busy parent, she is thrilled to be able to share her experience and deep engagement with South Asian wisdom traditions through convenient, self-paced Online Yoga Philosophy Courses.
Chétana has a Master's degree in adult education with special courses in task-based learning, curricular development and materials design, which allow her to create uniquely accessible and enriching online courses. She was proud to have been a member of the Yoga Teacher Trainer Qualifications Working Group as a part of the Yoga Alliance Standards Review in 2019. She looks forward to helping you integrate Yoga wisdom into both your practice and your life.