Yog Sundari (Julia Anastasiou)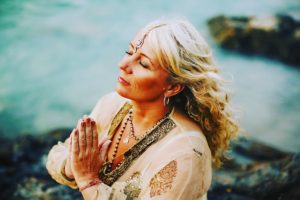 Yog Sundari strives for beauty and clarity in her language and is constantly investigating effective ways to present the ancient teachings, opening the door to her students' self-discovery and illumination. As a yoga teacher, her passion is bringing healing mantras and the symbolism of the primordial elements to her classes, encouraging the nurturing flow of breath by creating space and freedom in the body.
Yog Sundari began her journey within the healing arts in 1994 as a Holistic & Ayurvedic Therapist. This has become an integral part of her yoga and meditation teachings. In 2010, she obtained her 200-hour teacher training in California at The Chopra Center where she studied 'The Seven Spiritual Laws of Yoga' with Deepak Chopra. It was during an Ayurvedic Conference at Parmarth Niketan in Rishikesh that she met Yogrishi Vishvketu. She was so impressed with the philosophy behind Akhanda Yoga that she returned to India later that year to complete her 500-hour certification in Akhanda Yoga at Anand Prakash Ashram in Rishikesh, India. She is now registered as an E-RYT 500.
Yog Sundari teaches Akhanda (Holistic) Yoga classes each week in London, including Hatha Raja, Yoga Nidra and Classical Kundalini. As the director of Akhanda Yoga London, Yog Sundari offers Akhanda Yoga 200-hour Teacher Training in London, England. Her YTT courses are accredited by Yoga Alliance UK. She also teaches on Akhanda Yoga Teacher Training programs in Rishikesh, India.
Events with Yog Sundari (Julia Anastasiou)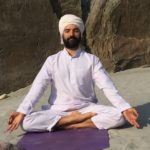 Shiva Shakti Power! A Virtual Classical Kundalini 100-hour YTT
April 23, 2021
This 12-day intensive training course, live on Zoom, offers a profound personal and professional development opportunity. Join Yogrishi (Vishva-ji) and Yog Sundari (Julia Anastasiou) to explore the chakras and the nadis of the energy body, learn dynamic asana, pranayama, mantra, mudra and meditation to purify and expand the pranic field, as well as tools to support advanced yoga practices. You will also learn Classical Kundalini sequencing and do a teaching practicum so that upon graduation, you will be certified to teach Akhanda's Classical Kundalini classes. You will come away deeply revitalized and with the confidence to bring these Tantric practices…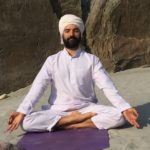 Raj Yoga for Emotional Wellness and Restoration YTT 100
October 25, 2021
Imagine profound personal and professional development over 10 days at Anand Prakash Ashram in Rishikesh, India, with world-renowned teachers, Yogrishi Vishvketu and Yog Sundari. Finding your true Self is a lifelong journey, and every moment presents an opportunity to grow in physical, mental, emotional and spiritual wellbeing. Yoga and Meditation should be accessible to all ages, all body types and all levels of fitness. Raj Yoga with the amazing bhramari in every posture is an innovative style designed by Yogrishi Vishvketu to bring anyone, very simply towards more calm, meditative awareness and integration. This approach unlocks hidden potential by releasing blocked…