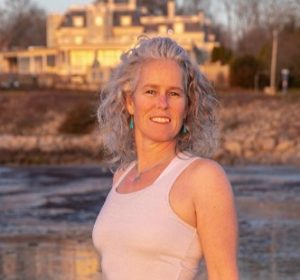 During a time of personal challenges, I instinctually immersed myself in yoga. The practice helped me regain my health and reconnect with myself after a car accident left me bed-ridden for a year, and after ending an engagement two weeks prior to the wedding. Yoga helped me breathe my way home as I cared for my mother during her 4-year battle with uterine cancer. Teaching yoga provides me connections that have carried me across continents and through cities and towns all over the world.
I received my 200-hour certification from the Kripalu Center for Yoga and Health. This gentle and compassionate style of yoga emphasizes meditation, physical healing and spiritual transformation that overflow into daily life. I returned to live at the Kripalu Center for a year in 2013 as a volunteer after a 14-year career teaching high school English in both the United States and overseas. The urge to learn about yoga at the source led me to India, where I studied and completed my 300-hour certification in Akhanda Yoga at Anand Prakash Yoga Ashram. The program further immersed me in a yoga as a holistic path to compassion, personal bliss and spiritual transformation. My deep connection to this approach lead me to spread Akhanda Yoga worldwide.
My classes cater to multiple levels and emphasize the body as the teacher. Students are encouraged to recognize the wisdom of their own bodies and listen. I teach from a place of joy and offer suggestions for postures with many variations so each individual can customize their own practice. I watch, to promote safety, encourage inner alignment in the Kripalu and Akhanda traditions, and foster energy flow as taught in Kundalini Yoga. Finally, I invite students to treat their bodies and minds with kindness and patience on the mat and in the world.
I am thrilled to be returning to the Ashram as a philosophy/methodology teacher trainer on the YTT 200 program in February 2020.