Robin Campbell (Prem Sagar)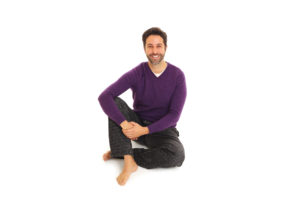 Robin Campbell (Prem Sagar) holds a Bachelors degree in Psychology & Anthropology and a Masters in Counselling Psychology. He is a registered psychologist in Calgary, and works in private practice.
Prem has pursued the art of yoga and spiritual transformation since 1999, when he first met his teacher, Yogi Vishvketu in Rishikesh, India. He developed a deep connection with Yogi Vishvketu and has remained a dedicated student. Since then, Prem has been part of the teaching faculty for the Akhanda Yoga Teacher Training programs, in particular spearheading the Yoga Lifestyle Coaching training. As part of the teacher training programs, Prem taught courses on the psychology of yoga and has developed courses on yoga therapy in North America and in India.
In addition, Prem has been part of the teaching faculty of Mt. Royal University yoga therapy program for the past 6 years and has taught courses on yoga for mental health and wellness and therapeutic relationships. Prem has developed a unique form of yoga therapy that integrates the disciplines of yoga, psychology and body centered mindfulness therapies.