9 Week Asana Series: Revisiting Physical Alignment & Creating Space
With Yogrishi Vishvketu
January 14 - March 11, 2021
A sedentary, screen-focused lifestyle creates misalignment in our physiology, particularly in the spine. The breath becomes more shallow and unprocessed emotional energy creates blockages in our physical and subtle bodies. Often, we only begin to become aware of this misalignment when we feel aches and pain in our lower back, neck, shoulders or chest, or have difficulty sleeping.
This 9 session practice series, with Yogrishi, focuses on releasing, realigning and strengthening key areas of the body where physical pain is experienced – such as lower back, neck and shoulders. It also focuses on creating space and lung capacity, to clear energetic blockages and support the ongoing retraining of the breath.
A special note for our YTT graduates, this series provides an opportunity to revisit physical alignment cues and targeted lower back, neck and shoulder sequences to support your own class offerings. 
Dates: Thursdays; January 14th – March 11th
Time: 7am to 8.15am Pacific Time (recordings will be made available)
Price: $108 for all 9 sessions!
DISCOUNT: Bundle with the 9 Week Pranayama Series ($108) & 3 Month Ayurvedic Cooking Series ($90) and receive $56 off!!
$250 for all three programs!!! Email Jot Anant for discount code; community@akhandayoga.com
*All sessions will be recorded and a link sent to every participants, so if you are unable to make any of the sessions you will still be able to participate. Video recordings available until March 30th
**If you are an Akhanda Yoga Graduate and need financial assistance in order to participate please reach out to Jot Anant at community@akhandayoga.com
The series will be held on Zoom, and you'll receive a link the evening prior to the program!
Remember your Zoom etiquette:
You can always opt out of video if you do not want your image to appear, though it is nice to see each other
If you are on video, try to keep your device steady and avoid moving in and out of your screen (if you have to get up, you can just turn your video off until you're back)
You'll be muted during the talk but there will be time for connection and sharing with the group too
Leader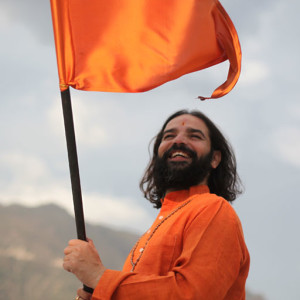 Yogrishi Vishvketu
Himalayan Yoga Master and Co-founder of Akhanda Yoga, Yogrishi Vishvketu (Vishva-ji) is known for his infectious laughter and stories. His holistic approach brings forward ancient wisdom for a modern age, incorporating asana, pranayama, mantra, meditation and yogic wisdom in every class. Vishva-ji's deepest aim is to inspire people to connect to their true nature, which is joyful, fearless, expansive and playful. A Yogi at heart, Vishva-ji has studied and practiced Yoga in the Himalayas since the age of 8, and holds a PhD in Yoga Philosophy. He has been teaching for over 25 years at workshops and conferences internationally and has…
Learn more about Yogrishi Vishvketu