Ancestral Healing: Embracing Wholeness for the New Year (@Kripalu)
With Yogrishi Vishvketu
January 23 - 24, 2021
Join Himalayan Yoga master Yogrishi Vishvketu (Vishva-ji) online through Kripalu Center for a special journey celebrating and healing ancestral blueprints that live on in you today. Release limiting beliefs and patterns and bring forth gratitude as you uncover and step into the unique gifts you are carrying forward for the communities of tomorrow.
The word Akhanda means whole and indivisible. Vishva-ji teaches a full repertoire of Akhanda yoga techniques including lifestyle tips, asana, pranayama, mantra, yoga nidra, and meditation, bringing insights and tools from traditional wisdom into your contemporary yoga practice. He guides you through the five koshas, or layers of being: physical, energetic, mental/emotional, and intuitive. Culminating in an ancient elemental healing ritual to heal both your maternal and paternal lines, this transformative program includes:
A special Vedic water ceremony to heal ancestral blueprints
Inquiries into what you carry with you from your ancestors
Four Akhanda Yoga classes
An extended pranayama practice to expand your energetic being
Sounding and Vedic mantra to clear the mind and release stress on a cellular level
A restorative yoga nidra practice to tap into intuition and establish fresh intentions for your life.
Note Please have symbolic items or photographs of your family or special friends and/or items that relate to what you are bringing forward for healing. You'll also want to have a yoga mat, and any props you find helpful for your practice.
Schedule
Saturday
9am-10:15am Eastern Time                     Akhanda Yoga class
11am-12:30am Eastern Time                  Program session
1:30-3pm Eastern Time                            Program session
3:30pm -4:30pm Eastern Time               Evening ritual
Sunday
9am-10:15 Eastern Time                          Akhanda Yoga class
11am-12:30pm Eastern Time                  Program Session
1:30-3:00pm Eastern Time                      Program session and closing
Leader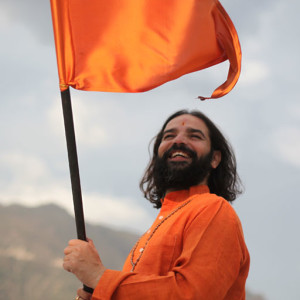 Yogrishi Vishvketu
Himalayan Yoga Master and Co-founder of Akhanda Yoga, Yogrishi Vishvketu (Vishva-ji) is known for his infectious laughter and stories. His holistic approach brings forward ancient wisdom for a modern age, incorporating asana, pranayama, mantra, meditation and yogic wisdom in every class. Vishva-ji's deepest aim is to inspire people to connect to their true nature, which is joyful, fearless, expansive and playful. A Yogi at heart, Vishva-ji has studied and practiced Yoga in the Himalayas since the age of 8, and holds a PhD in Yoga Philosophy. He has been teaching for over 25 years at workshops and conferences internationally and has…
Learn more about Yogrishi Vishvketu