Raj Yoga for Emotional Wellness and Restoration YTT 100
With Yogrishi Vishvketu and Yog Sundari (Julia Anastasiou)
October 25 - November 5, 2021
Imagine profound personal and professional development over 10 days at Anand Prakash Ashram in Rishikesh, India, with world-renowned teachers, Yogrishi Vishvketu and Yog Sundari.
Finding your true Self is a lifelong journey, and every moment presents an opportunity to grow in physical, mental, emotional and spiritual wellbeing. Yoga and Meditation should be accessible to all ages, all body types and all levels of fitness. Raj Yoga with the amazing bhramari in every posture is an innovative style designed by Yogrishi Vishvketu to bring anyone, very simply towards more calm, meditative awareness and integration. This approach unlocks hidden potential by releasing blocked emotions and vibrating the whole being to the cellular level. Teachers, we invite you to open the journey of Raj Yoga and Living Meditation to participants under-served by mainstream Yoga.
With this residential 100-hour YTT module, you will add this inclusive Yoga style to your teaching services, and learn to tailor Raj Yoga for those who need a very moderate flow, to practice in a chair or even to practice in bed. Raj Yoga classes are specifically designed to support mobility, immune function, respiratory wellness, good quality of sleep, emotional wellness and spiritual inquiry.
You will also study the Bhagavad Gita and several Sutras, learn to teach Beginner Meditation classes and series, lead mini-Yoga Nidra sessions, Raj Yoga for Pregnancy and more!
Details
The course will explore the last four limbs of Patanjali's eight-fold path: pratyahara, dharana, dhyana and Samadhi through theory and practical applications in concentration, meditation and free awareness. Participants will be guided in learning to teach meditation in incremental steps. In this module, you will also learn about the wonders of the Bhramari Pranayama and how to design and teach a Raj Yoga class, including a full-length Raj Yoga practicum experience. We will also explore Yogic anatomy and the five koshas map of the subtle body and how it informs each aspect of our practice. This course qualifies as one of our three modules toward the 500-hour RYT designation.
Program Outline
Bhramari pranayama ~ its practice and astounding proven benefits
Yogic Anatomy ~ Map of the Five Koshas (layers)
Aligning your Layers ~ Techniques for developing and aligning each Koshas
Science of Sequencing ~ Designing and Teaching a restorative Raj Yoga class
Adaptive Raj Yoga ~ for Restoration, Pregnancy, Chair Yoga and Bed Yoga
Yoga Nidra ~ Learning to guide mini-Yoga Nidra sessions for deep relaxation
Bhagavad Gita ~ Insights from this beloved sacred text for Living Yoga
Patanjali's Sutras ~ Insights into meditative practice and Living Meditation
Deepening your Meditation ~ Enhanced personal practice of meditation and silence
Teaching Meditation ~ How to teach diverse meditation tools to beginners
Design Meditation Series ~ Guide students to build their capacity in incremental steps
Practicum ~ Design and teach a full-length Raj Yoga class
Included Materials
Raj Yoga Manual
Course Requirement
200-hour Yoga Teacher Training Certificate or permission from Lead Trainer
Daily Schedule
Raj Yoga is designed to be an intensive Ashram residential experience, providing you with an experiential and practical understanding of this approach to Yoga. There is a day off in the middle of the course with just morning practice and meditation on that day, meaning the course takes place of 11 days.
5:15 – 5:45       Meditation
6:00 – 7:45       Yoga Class
8:00 – 8:30       Fire Puja
8:30 – 9:00       Breakfast
9:15 – 12:15     Program Session
12:30 – 1:00     Lunch
2:30 – 5:45       Techniques and Practicum
6:00 – 6:45       Dinner
7:00 – 8:00       Satsang and Kirtan
Leaders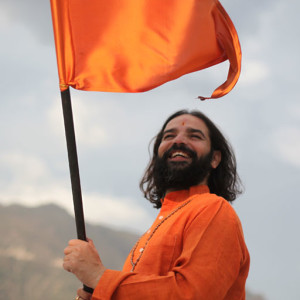 Yogrishi Vishvketu
Himalayan Yoga Master and Co-founder of Akhanda Yoga, Yogrishi Vishvketu (Vishva-ji) is known for his infectious laughter and stories. His holistic approach brings forward ancient wisdom for a modern age, incorporating asana, pranayama, mantra, meditation and yogic wisdom in every class. Vishva-ji's deepest aim is to inspire people to connect to their true nature, which is joyful, fearless, expansive and playful. A Yogi at heart, Vishva-ji has studied and practiced Yoga in the Himalayas since the age of 8, and holds a PhD in Yoga Philosophy. He has been teaching for over 25 years at workshops and conferences internationally and has…
Learn more about Yogrishi Vishvketu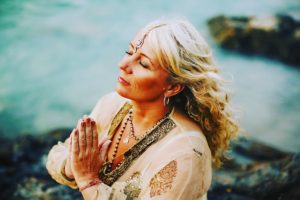 Yog Sundari (Julia Anastasiou)
Yog Sundari strives for beauty and clarity in her language and is constantly investigating effective ways to present the ancient teachings, opening the door to her students' self-discovery and illumination. As a yoga teacher, her passion is bringing healing mantras and the symbolism of the primordial elements to her classes, encouraging the nurturing flow of breath by creating space and freedom in the body. Yog Sundari began her journey within the healing arts in 1994 as a Holistic & Ayurvedic Therapist. This has become an integral part of her yoga and meditation teachings. In 2010, she obtained her 200-hour teacher…
Learn more about Yog Sundari (Julia Anastasiou)