Reactivate Your Intuition with Inversions
With Yogrishi Vishvketu
July 22, 2020
Inversions have a powerful effect on the Pineal gland and your Third Eye, the seat of our Intuition. Learn how it all works and experience the Insight Effect.
If you've dismissed inversions because you find full variations too challenging, this workshop is for you. There are a whole variety of ways to get into partial or full inversions with support and stability.
The workshop will be held on Zoom, and you'll receive a link the evening prior to the program!
Remember your Zoom etiquette:
You can always opt out of video if you do not want your image to appear, though it is nice to see each other
If you are on video, try to keep your device steady and avoid moving in and out of your screen (if you have to get up, you can just turn your video off until you're back)
You'll be muted during the talk but there will be time for connection and sharing with the group too
Leader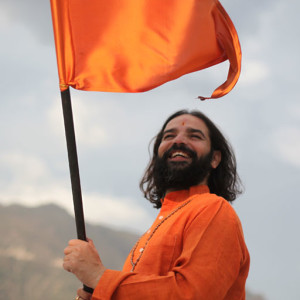 Yogrishi Vishvketu
Himalayan Yoga Master and Co-founder of Akhanda Yoga, Yogrishi Vishvketu (Vishva-ji) is known for his infectious laughter and stories. His holistic approach brings forward ancient wisdom for a modern age, incorporating asana, pranayama, mantra, meditation and yogic wisdom in every class. Vishva-ji's deepest aim is to inspire people to connect to their true nature, which is joyful, fearless, expansive and playful. A Yogi at heart, Vishva-ji has studied and practiced Yoga in the Himalayas since the age of 8, and holds a PhD in Yoga Philosophy. He has been teaching for over 25 years at workshops and conferences internationally and has…
Learn more about Yogrishi Vishvketu