Virtual Retreat – Clear Your Energy and Heal Yourself with Prana and Sound
With Yogrishi Vishvketu
May 30 - 31, 2020
For the first time EVER, our annual retreat will be accessible to you wherever you are in the world!!
Come be with Yogrishi online for upliftment, prana and sound exploration. It's the perfect time to gather for clearing and self-healing as we move into a new paradigm. Conclude Spring 2020 with fresh energy and renewed confidence to move forward from here.
The retreat includes three LIVE virtual sessions and three special pre-recorded classes in Hatha-Raja, Classical Kundalini and Inner Reprogramming for a high-quality Yoga experience.
Check out the schedule!  We hope you'll join Yogrishi for this unprecedented journey alongside fellow Akhanda Yogis! Take pause and connect with the wider Yoga Family!!
Saturday
Opening Satsang – Live (1 hour 15 minutes)
Join in a retreat welcome and inspirational talk with Vishva-ji, after which he will lead kirtan and meditation to uplift and recharge our energy.
11am Pacific
2pm Eastern
7pm London
Hatha-Raja – Happy Hips – on AYO (1 hour)
Heal with sound through this one-hour evening practice and release emotional baggage stored in the hips!
Establish your retreat flow with this class anytime Saturday afternoon/evening
Sunday
Morning Classical Kundalini – on AYO (1 hour)
Ground and uplift with a full Classical Kundalini practice or a guided Chakra invocation.
Practice in the morning before or after the morning talk, as you wish!
Breath Can Heal So Many Things! – Live (1 hour  15 minutes)
Are you five pranas balanced? Vishva-ji will share his personal experience of how prana works to heal and guide an in-depth Prana exploration and pranayama practice.
7am Pacific
10am Eastern
3pm London
Inner Reprogramming – on AYO (1 hour)
Harmonize your whole being by matching movement with breath, and surrender into peace and the loving presence all around us.
Follow-up the class on breath Sunday afternoon with Inner Reprogramming
Self-healing with Sound and Water Ritual – Live (1 hour 15 minutes)
Learn about how sound heals and practice sound and water rituals for a profound sound healing experience and ideal closing to the retreat.
11am Pacific
2pm Eastern
7pm London
How the Virtual Retreat Works
 A few days before the retreat, you'll be given the link to enter the retreat sessions. If you don't already use the virtual platform, you can download it and make sure you're ready to go.
When you click to join on the day of the retreat, select computer audio. You'll be muted at first when you join, but you can then click on the video icon, choose gallery view so you can see everyone, and you'll be ready to go!
 During the retreat, you will be able to see a view of the teacher and other participants (on gallery view) during the sessions. During talks, Vishva-ji and an assistant will speak and also invite students to contribute and ask questions through a 'raise-hand' function or by visually raising your hand. When you're chosen, you unmute yourself and address the group. Teachers may also use 'breakaway groups', which allow you to discuss in a smaller group and then be brought back to the larger circle. Classes can be very interactive and fun on the virtual platform, just as when we're together.
Zoom Etiquette
Audio – You'll be muted when you join, just so the audio is clear for everyone, and will be asked to unmute when you're greeting the others or making a comment.
Video – Video will also be turned off when you join, and if you wish to use video, you click the little camera icon at the bottom of your screen 'join video'. Don't be shy – it helps to see people on video and we all get a feeling of who's in the circle.
But… as you're on camera, please try not to jiggle your device, stand up and move around or do things on screen you wouldn't normally do in a class. Why? When people's cameras are moving or people are shifting in and out of the screen, it gives the feeling of being on a rocking boat on gallery view, and is hard to concentrate. Also, if you're doing something like eating or talking to someone in your room while you're on mute, it is visible to the whole group. The virtual gathering will feel like a retreat if we're all focussed on the circle and fully engaged with the experience.
Chat – You will be able to use the chat also to ask questions and make comments to the facilitators only. This way we can select questions or comments from the chat to mention aloud to the group without you having to ask your question live and to facilitate the flow of questions. We will keep the chat private between participants and facilitators to minimize distraction for the group as a whole.
Leader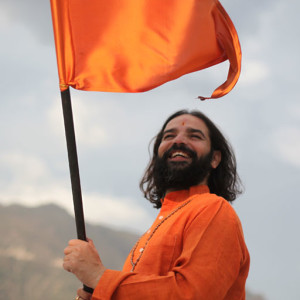 Yogrishi Vishvketu
Himalayan Yoga Master and Co-founder of Akhanda Yoga, Yogrishi Vishvketu (Vishva-ji) is known for his infectious laughter and stories. His holistic approach brings forward ancient wisdom for a modern age, incorporating asana, pranayama, mantra, meditation and yogic wisdom in every class. Vishva-ji's deepest aim is to inspire people to connect to their true nature, which is joyful, fearless, expansive and playful. A Yogi at heart, Vishva-ji has studied and practiced Yoga in the Himalayas since the age of 8, and holds a PhD in Yoga Philosophy. He has been teaching for over 25 years at workshops and conferences internationally and has…
Learn more about Yogrishi Vishvketu