2-Day Akhanda Yoga Retreat in Caroline, AB (Canada)
With Yogrishi Vishvketu
May 29 - 31, 2020
Join us at the scenic Sanctum Retreat for a rejuvenating, all-inclusive retreat amongst a community of other yoga enthusiasts. The Sanctum Retreat offers delicious vegetarian meals, comfortable accommodation and a vaulted hall for yoga during the retreat. 
This retreat will include 4 Akhanda (holistic) Yoga practices, 2 morning fire pujas and 2 transformational evening sessions. Enjoy restorative Hatha-Raja on Friday afternoon, invigorating Classical Kundalini on Saturday morning, healing Inner Reprogramming on Saturday afternoon and integrating Akhanda I-II Yoga on our final morning together.
Daily discussion sessions will centre on the theme of 2020 – Envisioning our Lives and Living as Ritual. In the evening, there will be mantra, healing circle, and of course a bit of World dancing!
Sample schedule:
6:30am-8:00am – Morning Akhanda (holistic) Yoga
8:15am-8:45am – Ancestral Healing Ritual
9:00am – Breakfast
10:00am – Discussion 1.5 hour with Vishva-ji
12:00pm – Lunch
4:00pm-5:45pm – Afternoon Akhanda (holistic) Yoga
6:00pm – Dinner
7:00-8:30pm – Evening mantra and Transformational Experiences sessions (chanting, dancing, healing circles etc.)
To view the retreat venue's website please visit www.sanctumretreat.ca.
Leader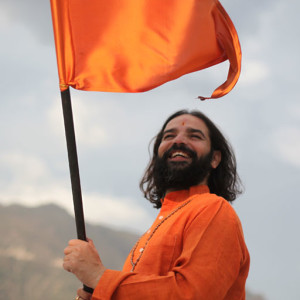 Yogrishi Vishvketu
Himalayan Yoga Master and Co-founder of Akhanda Yoga, Yogrishi Vishvketu (Vishva-ji) is known for his infectious laughter and stories. His holistic approach brings forward ancient wisdom for a modern age, incorporating asana, pranayama, mantra, meditation and yogic wisdom in every class. Vishva-ji's deepest aim is to inspire people to connect to their true nature, which is joyful, fearless, expansive and playful. A Yogi at heart, Vishva-ji has studied and practiced Yoga in the Himalayas since the age of 8, and holds a PhD in Yoga Philosophy. He has been teaching for over 25 years at workshops and conferences internationally and has…
Learn more about Yogrishi Vishvketu