Pranic Exploration in Modiin, Israel
With Yogrishi Vishvketu
March 11 - 15, 2020
Vishva-ji is returning to Israel for the annual retreat with Sanga Yoga! Join him for three days of deep exploration and expansion of your Prana, and pranic healing. In this workshop you'll experience at least four yoga sessions, two Hatha-Raja with the bumblebee in every posture to release repressed emotions and two Inner Reprogramming in which you move in exact harmony with your breath. You will also be taken on journeys, some playful and some very subtle, to get in touch with the life breath in various parts of your body, culminating with Pranic healing sessions. Prana work is such a powerful tool for us, the Upanishads call it Prana Agni Hotra – fire ceremony with the breath – offering the inbreath into the outbreath and the outbreath into the inbreath.
During these transformative three days, you will participate in:
A Vedic fire ritual ( for pranic purification and recharging the space around you);
Four Akhanda Yoga classes (2 Hatha-Raja and 2 Inner Reprogramming);
Several subtle journey of exploration of prana in various parts of the body;
Pranic healing sessions guided by Yogrishi and with a partner;
Talks about Yogrishi's experience with and deep interest in pranayama as a main vehicle of yoga; and
A meditative walk to absorb prana from nature.
Leader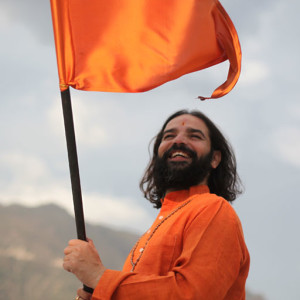 Yogrishi Vishvketu
Himalayan Yoga Master and Co-founder of Akhanda Yoga, Yogrishi Vishvketu (Vishva-ji) is known for his infectious laughter and stories. His holistic approach brings forward ancient wisdom for a modern age, incorporating asana, pranayama, mantra, meditation and yogic wisdom in every class. Vishva-ji's deepest aim is to inspire people to connect to their true nature, which is joyful, fearless, expansive and playful. A Yogi at heart, Vishva-ji has studied and practiced Yoga in the Himalayas since the age of 8, and holds a PhD in Yoga Philosophy. He has been teaching for over 25 years at workshops and conferences internationally and has…
Learn more about Yogrishi Vishvketu