Sleepology and Inner Reprogramming YTT 100
With Anandi Alison Francis
March 3 - 13, 2021
This 100-hour residential training course at Anand Prakash Ashram in Rishikesh, India, offers a unique opportunity to become a Sleepologist as well as learn to lead Inner Reprogramming Yoga classes. Over one third of the population suffer from sleep problems and it's becoming a modern epidemic. Many people are looking for alternatives to sleep medication and turning to holistic treatments.
Anandi, The Sleep Guru (Alison Francis) suffered for many years herself until she started her journey with Akhanda Yoga and Vishva-ji in India.  She soon discovered that a sleep issue is an imbalance and can usually be healed with Yoga and Ayurveda.  However, on Anandi's journey she discovered that healing a sleep problem is a matter of taking the right steps in the right order and as a result she designed her methodology, Sleepology®
Sleepology® is made up of five principles and three sub principles within each principle. The Sleeplogist is able to consult with clients who are exhausted, stressed and not sleeping well.  They'll have the tools to identify imbalances and make recommendations.
The Sleepologist will also be able to offer classes based on the 'mind' principle of Sleepology®.  The mind principle embraces Akhanda Yoga's Inner Reprogramming class and the five principles of prana to calm the mind before moving onto the next Sleepology® Principle.
This course is ideal for experienced Yoga teachers, therapists, life coaches who are seeking to specialise in the rapidly growing sleep market using the principles of Sleepology®.
Teachers will get an accredited Sleepology® diploma together with an Akhanda certificate for 100+ CEU hours (90 contact hours). This course can be used to build towards our 1000-hour Master Teacher designation.
Program Outline
Understanding the five principles of Sleepology®
Understanding the mechanics of sleep
The principles of Ayurveda: understanding how doshas affect sleep
Sleepology® consultation protocol
Creating a Sleepology® programme for a client
The interconnection between breath and the nervous system
Working with the 5 pranas theory and practice
Akhanda Inner Reprogramming theory and practice
The art of teaching an Inner Reprogramming class
The power of Agni in relation to sleep
Dinacharya to optimise good sleep
Nourishment for the nervous system
Yogic philosophy and sleep
Practicum: Teaching an Akhanda Inner Reprogramming class and leading a Sleepology consultation
Included materials
Sleepology® Manual
License to use the Sleepology® logo
Pre-Course Reading
Breathe Better Sleep Better by Anandi
Course Requirement
Certified 200 hours Yoga Teacher or permission from the Team
Daily Schedule
5:15 – 5:45       Meditation
6:00 – 7:30       Yoga Class
7:50 – 8:20       Puja
8:30 – 9:00       Breakfast
9:15 – 12:15     Program Session
12:00 – 2:30     Lunch Break
2:30 – 5:45       Practical Topic
6:00 – 6:45       Dinner
7:00 – 8:00       Satsang and Kirtan
Leader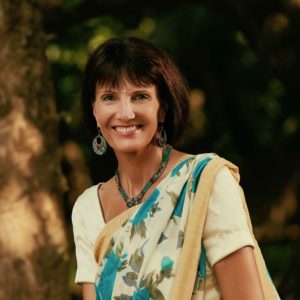 Anandi Alison Francis
Anandi (Alison Francis) has been in the wellness field for 30 years. She's an Ayurvedic consultant, senior  Akhanda Yoga teacher and trainer, and founder of The Sleep Guru.  She's also a certified Chopra meditation teacher. Anandi started her studies with Yogrishi Vishvketu in 2007, and has remained a dedicated student ever since. She's the creator of Sleepology, a new wellbeing process and in-depth enquiry into the causes of stress, exhaustion and sleep issues. Anandi is also the author of Breathe Better Sleep Better, which explains how to use the breath as a healing tool, not just for sleep, but…
Learn more about Anandi Alison Francis