Pranayama: Reboot Your Life Force Energy
With Yogrishi Vishvketu
July 16, 2019
Join Yogrishi Vishvketu for an intimate full-moon pranayama workshop at his home practice space. Limited to 12 students, this will be a great opportunity to increase your motivation and enthusiasm this summer with pranayama practice.
In this hour and a half workshop, you will learn more about the pranas and bandhas and learn a sequence of pranayama techniques that you can continue to practice as a set at home. The evening will close with meditation.
You will receive an email with preparations and location information after registering.
Please note that our system works only in US dollars. This class is $22.50 USD, which is approximately $30 Canadian.
Want to follow up this workshop with a new-moon Vedic Ancestor Water Puja? Email us to register your spot for this donation-based ritual on Wed. July 31.
Leader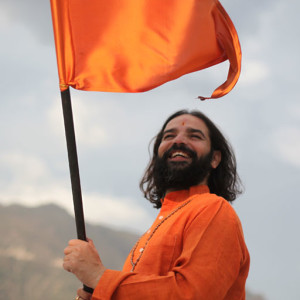 Yogrishi Vishvketu
Himalayan Yoga Master and Co-founder of Akhanda Yoga, Yogrishi Vishvketu (Vishva-ji) is known for his infectious laughter and stories. His holistic approach brings forward ancient wisdom for a modern age, incorporating asana, pranayama, mantra, meditation and yogic wisdom in every class. Vishva-ji's deepest aim is to inspire people to connect to their true nature, which is joyful, fearless, expansive and playful. A Yogi at heart, Vishva-ji has studied and practiced Yoga in the Himalayas since the age of 8, and holds a PhD in Yoga Philosophy. He has been teaching for over 25 years at workshops and conferences internationally and has…
Learn more about Yogrishi Vishvketu