Lunar Akhanda Yoga: A Restorative and Yin YTT 100
With Eila Devi
March 4 - 15, 2020
The moon is a reminder that no matter what phase I'm in, I'm still whole.
Are you hearing the call to slow down? Have you been touched by stillness and are curious about its mystery and power to heal? Join us for this 10-day intensive YTT 100 at Anand Prakash Yoga Ashram in Rishikesh, India, to learn how to open the door for others to enter into the quieter states of practice, to provide guidance and teachings from the lunar side of Akhanda Yoga.
Together we will explore new pathways into stillness. Through daily practices, experiential embodiment and study sessions, and practice teaching, you'll come away with a clear understanding of the nuances each style offers.
The course offers experience into the multi-dimensions of holistic health with applied yogic wisdom, and experience in the application of Akhanda Yoga's five energetic principles and elements of practice. We will also explore a deeper understanding of the student-teacher relationship, with discussions of the responsibilities we hold as practices take us further into the healing realm.
Upon completion of the teaching practicum, you will be equipped to teach both Restorative and Yin Yoga group classes and one-to-one sessions.
During this course, we will explore the following:
Restorative Yoga
Measures of comfort, support, openness
How to support students in the process of un-winding, with hands on assists
Science of the Relaxation Response
Practice of deep listening
Anatomy and physiology: Exploring the nervous, endocrine and immune systems
Subtle Anatomy: experience 5 koshas in restful asana
Teaching Restorative Yoga asana & pranayama, and the complete class
Ayurvedic constitutions and Restorative Yoga
Yin Yoga
Benefits of positive stress on the body tissues, and mind
Science of stretching
Addressing common injuries
Practice of mindful presence
Anatomy and physiology: fascia and joints
Subtle Anatomy: wisdom of the chakra body, nadis and marma
Teaching Yin Yoga asana & pranayama, and the complete class
And more:
Akhanda Yoga teaching methodology for Lunar practices
Developing a 'teachers eye'
Skills for holding silence, stillness & safety
Welcoming all body types, and the art of props
Yoga philosophy: Applying Yogic wisdom to rest and relaxation
Cultivating self-compassion & compassion for others
Anatomy of breath: respiratory system and nervous system
Introduction to Akhanda Yoga Nidra
Teaching pranayama for relaxation, calm and quietude
Practice & teaching of meditation and mantra for inner peace
Bhakti Yoga, kirtan and mantra for inner harmony
Exploring the emotional and spiritual realms through Transformational Experiences
Reflection time in nature and on the banks of Ganga River
Lunar Akhanda Yoga is a valuable practice for the active lives we find ourselves in today. It is deeply healing, and provides inspiration and nourishment for the inner journey of yoga. This course is ideal for experienced yoga teachers, care-givers, therapists, and bodyworkers who want to expand their understanding of the quieter side to yoga asana, and lead Restorative and Yin Yoga sessions with confidence and integrity.
Graduates of this training will get a certificate for 100+ CEU hours (90 contact hours). The course is listed as under Eila Devi's YACEP profile with Yoga Alliance.
Included Materials
Lunar Akhanda Yoga Teacher's manual
Course Requirement
200-hour Yoga Teacher Training Certificate with 1+ years of teaching experience, or pre-approval from the lead teacher
Pre-readings, written assignment and completion of Akhanda Yoga Online pre-courses
Daily Schedule
This is designed to be an intensive Ashram residential experience. The course work is over 10 days with one day off in the middle of the program with just morning practice and meditation on that day.
5:15 – 5:45       Meditation
6:00 – 7:45       Akhanda Yoga Class
8:00 – 8:30       Fire Puja
8:30 – 9:00       Breakfast
9:15 – 12:15     Morning Program Session
12:30 – 1:00     Lunch
2:30 – 5:45       Afternoon Program Session
6:00 – 6:45       Dinner
7:00 – 8:00       Evening program – variety of Kirtan, meditation, journaling
Leader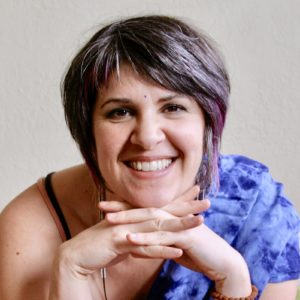 Eila Devi
Eila Devi enjoys the adventures of life, taking the road less travelled, making friends and sharing the gifts of Yoga. She's grateful to have learned from teachers who are bridging ancient wisdom into our current, collective consciousness. Experiencing Yoga in the Himalayan region of India was a significant turning point for her. It's here that she began studies with Yogrishi Vishvketu ji, and with ongoing faith and practice she is proud to carry the Akhanda Yoga teachings across the world. Eila Devi became a Yoga teacher in 2000, teaching a variety of asana styles full-time. She co-owned a Yoga…
Learn more about Eila Devi