Private Yoga or Healing sessions with Vishva-ji
With Yogrishi Vishvketu
Open Dates
Personalized sessions with Vishva-ji are a catalyst to heal every layer of your being. Experience a direct transmission of ancient yogic wisdom as you receive an individually tailored practice to explore the areas of yoga that inspire or intrigue you. During these sessions, Vishva-ji offers you his complete presence and energy to support you in awakening to your blissful, playful, and fearless nature.
Choose from one of the following sessions below and begin your journey.
One-on One Yoga and Lifestyle Sessions:
A private or semi-private yoga session may include in-depth work with asana, pranayama, mantra and meditation in which you develop tailored sequences and specialized yoga tools to take home with you. It may also include lifestyle tips and motivational strategies to help you bring yoga more deeply into your life in a transformative and sustainable way. Students have delved deeply into the subtlety of the pranas, bandhas and breath retention; kriyas and cleansing sat karma; as well as daily rituals, mantra and meditation.
Pranic Healing Sessions:
Vishva-ji has a profound way of working with energy and shifting blockages that will leave you refreshed and ready to approach challenges in a new way. Improve energy levels, boundary issues and overall wellness. Experience the full power of Pranic Healing and how it expands and settles your life force for a more grounded and ample field. (only available at the Ashram).
Vedic Ancestral Healing Sessions:
These sessions reach deep into the cellular level to heal ancestral blueprints that live on in us today. Through an ancient process, including include Vedic mantra, elemental offerings, energy work and visualization, Vishva-ji will work with you to help clear and re-shape family dynamics and old wounds so you can step with confidence into your future.
The sessions take place:
at the Ashram (March and early April) or

by Skype (year-round)
Investment
Your private session offers you the opportunity to receive Vishva-ji's personal guidance and unwavering attention. Each session is an investment in your path to wholeness. In each appointment, Vishva-ji weaves his mastery of ancient yogic practices and decades of experience to support you in unlocking the potential of your true nature. All practices shared are comprehensive and holistic – each one artfully designed to support you in healing from the inside, out.
Single Session – $300
Package of Three* – $600
*must be reserved at the same time
Accessibility is important to the Akhanda Yoga Family. If you're unable to invest the full amount at this time but still feel called to work personally with Vishva-ji, reach out to us using the email listed below. We are more than willing to work with you to create an agreement that is supportive for everyone.
We highly recommend booking at least three sessions to get the maximum benefit and so that you have time to work together. After this you can book follow-up sessions or ongoing packages of three. But, we have the option of purchasing just one session to start if you want to try it out before committing to a package.
Sessions can be booked by registering through this online system. Then all you need to do is email info@akhandayoga.com with your preferred dates, and we will contact you to complete the booking.
Register now and get instructions on how to book and prepare for your session.
Questions? Feel free to reach out to us at info@akhandayoga.com for any questions that may arise.
Vishva-ji looks forward to working with you in your journey of Wholeness!
Leader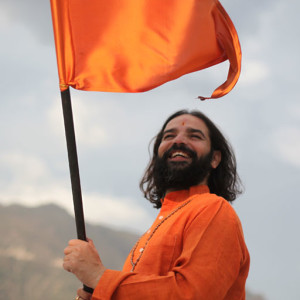 Yogrishi Vishvketu
Himalayan Yoga Master and Co-founder of Akhanda Yoga, Yogrishi Vishvketu (Vishva-ji) is known for his infectious laughter and stories. His holistic approach brings forward ancient wisdom for a modern age, incorporating asana, pranayama, mantra, meditation and yogic wisdom in every class. Vishva-ji's deepest aim is to inspire people to connect to their true nature, which is joyful, fearless, expansive and playful. A Yogi at heart, Vishva-ji has studied and practiced Yoga in the Himalayas since the age of 8, and holds a PhD in Yoga Philosophy. He has been teaching for over 25 years at workshops and conferences internationally and has…
Learn more about Yogrishi Vishvketu